Recently went on a fifteen mile round trip hike to Jordan Hot Springs in the Gila Wilderness. I'm still not used to the variation in the landscape of New Mexico. The trail mostly lies within a canyon with a river carving through it.
The most fun part of the trail is definitely the river crossings. Successfully fording a river really does make one feel like an adventurer. Oh, and the hot springs was nice to I guess. It's nice that I didn't die from the amoeba.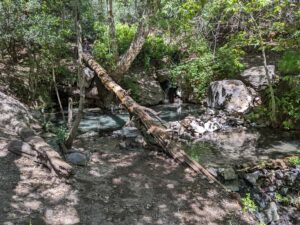 Then the other day, I finally went to a concert in New Mexico to a band that I know and love. The Head and The Heart was playing at the Ladder to the Moon festival. On a whim, I decided to drive the 2 hours to northern NM and see them during the lunar new moon.
It was an awesome show.
On a side note, having great ear plugs really make concerts so much better.