Will be a long brain dump of locations and my basic itinerary.
Also, WordPress somehow compresses the image to be blurry; open images in new tab to see originals.
All the locations mentioned are tagged here.
Day 1:
Arrive at airport which didn't take too long probably because it was a Monday that I landed. I've heard lines can get long for Friday and weekends. Border control was not difficult to navigate even with COVID restrictions. Don't be dumb is my best advice here.
Got my rental car from GoIceland. Seeing the poor reviews online, decided to get the extra insurance for peace of mind. If I were to do it again, I would rent from a more reputable source than this company. (Also, there's Go Rentals, which is an entirely different company that I accidentally walked to lol).
Drove to the supermarket Bonus, Icelandic Trader Joe's, and got supplies. See tips below regarding food.
First attraction I went to was Thingvellir National Park which was beautiful. In hindsight, it was not as impressive as the other views but rather serve as a historical monument. I recommend downloading the corresponding app which gives more details than the placards scattered about the park. Took only one hour to explore the park.

I had enough time in the day to drive to Reykjadalur thermal river. This is an easy ~3km hike which ended with a flowing hot spring at the end! Definitely bring a swimsuit and towel (and a beer if you have one). The hike itself has great vistas and valleys too.

Finally, established camp after hiking down in the nearby town.
Day 2:
Long second day ended with trip to Reynisfjara Black Sand Beach. At the time, I was super impressed with the color, but it turns out that these types of beaches are a dime a dozen across Iceland. Rather, the things I found cool was the flow of the ocean through the sand bars and the basalt formations. There are two parking spots, and both are worth visiting. The one to the west allows a few point of an arch, and the eastern allows one to actually walk on the beach.
For the evening, I drove all the way to Þakgil, which is a campsite that is quite a ways away from civilization. I didn't realize the roads were all gravel for 15kms. The campsite was okay in terms of facilities, but it was super crowded and the coldest shower I've taken in Iceland. It's definitely a place where a ton of locals go.
Day 3:
Started off with learning how to operate the tire pump at an Icelandic gas station. That was fun.
For some reason, there was a dust storm along where I drove. Visibility was reduced, and everything was a pale yellow shade. The first stop for the day was Fjaðrárgljúfur canyon. The dust did reduce the visual impact, but it was beautiful nevertheless. It honestly looks like something out of a postcard.

I skipped a few sights to gun for the glacier. I should've took my time as there were several sights I skipped (see list below). I first stopped at Fjallsárlón which was a glacial lagoon. This area just reminded me of Alaska as a whole.

The natural next stop is Diamond Beach and Jökulsárlón glacier lagoon. This is a much more impressive stop than Fjallsárlón and was also had more of a crowd. A really magical place to be honest, and pictures don't do it justice. Bring something warm to wear here.

To camp, I drove up to Stokksnes. I found this cute little campsite which was by a mountain and black sand beach. It was absolutely beautiful. Included with the campsite was a visit onto an abandoned film set. It was… interesting, but the nature was prettier.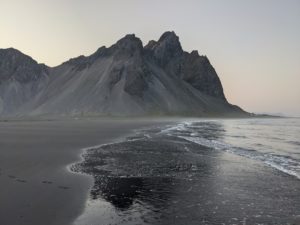 Day 4:
Day 5:
Started with a five hour hike around Borgarfjörður eystri. The owner of the campground told me of a great path to hike around, and the fjords were beautiful on a sunny day.

I skipped two waterfalls which are pretty famous (see below) in order to make time for Westfjords, but the north of Iceland is pretty desolate in terms of population.
Went to Leirhnjukur (quite cool; old lava field), Krafla crater (not as cool, essentially water in a round hole… which I guess is exactly what a crater lake is), and a shower head that doesn't stop (cool, but it's warm water *rimshot*).


Camped by Lake Myvatn. SO MANY GNATS. It was very annoying, but they do go away when the wind gusts, which is often.
Day 6:
Decided to treat myself, and reserved a "beer spa." Before that, I stopped at two places along the way: Dimmuborgir and Skútustaðagígar. Dimmuborgir is an unique lava field with formations that are incredibly tall. The other site was a bunch of craters, which I didn't like too much.
The beer spa was quite fun actually. A very unique experience. I arrived early to first soak in the beautiful outdoor hot tubs before going in for the beer spa. The beer spa consists of young beer, hops and spent yeast meaning it has a floral smell with hints of beer. After the soak, I went to the "relaxation" space upstairs to nap it off. Included with the price is unlimited beer. The actual soak was also revitalizing.
In the afternoon, I took a long detour around Trollasakgi Peninsula. In hindsight, seeing as I was going to Westfjords, this part was kind of redundant as the Westfjords were more beautiful with similar scenery.
Camped at Varmahlio for the night. It had a trampoline to jump on, but I slipped and lightly scrapped my knee…
Day 7-8:
Day 9: Unfun. Windy. Wet. Worse day. Stopped at a church again and a place called Paradisalaut. Unimpressed by either. Made it onto the Snaefellsnes Peninsula for camp. Actually met up with a crew of motorcyclists and a backpacker from a different camp.
Day 10: Incredibly long day for me.
First, with a new friend, climbed Kirkjufell mountain. Unfortunately, it was cloudy, but the hike was really fun with incredible views. It was also very scary and I only recommend it for folks with steady feet and hands. I bailed at the ropes section….

Next, a lot of stops in Snæfellsjökull National Park, which was basically Iceland in a nutshell.

Last day:
Went around the capital ate some hot dogs and fermented shark. The places where I went are fairly standard and I'm tired.
Tips for trip:
Pack some sort of cooler to store fresh food. I had to turn off my foodie brain and eat a lot of canned food on the trip. Fresh food was a luxury only when I stop at a grocery store. It was nasty in hindsight.
Rent/pack foldable chair and table – many campsites have tables, but they're usually occupied.
Other things I wish I had: small amount of bug spray or bug net for Myvatn area, sunglasses or hat to block the rays, organizing bags for clothes in car, perhaps some backpacking meals.
Roads in Iceland suck, the gravel roads are everywhere and terrible. Also, learn what a roundabout is.
Perhaps rent an AirBnB or hostel bed for the last night. Packing up a tent in the morning is stressful and puts a damper on the vacation.
Places where I wished I went:
Svartifoss
Ásbyrgi Canyon
Grjótagjá
Góðafoss