I went to Turkey for a total of ten days this past October, and it was a great trip. The amount of cultural heritage everywhere is unprecedented for me; it felt that every patch of land had some sort of historical significance. This was paired with awesome, unique natural features that I've never seen anywhere else.
The trip started in Istanbul where I only stayed for two nights. One could theoretically stay for far longer in this bustling metropolis, but I felt that I saw enough. It was also incredibly overwhelming in terms of people density, even for me who actually enjoys NYC.
The highlights in Istanbul is quite easily the Hagia Sophia, and the Basilica Cistern. The former is free as it's a working mosque, but the line is wild at peak times. I went during the morning right before it opened, and the line winded down a side street. I did have a nice conversation with a short British woman and her six feet four husband. The Basilica Cistern does cost money, and the line is still an issue. I managed virtually zero wait by going near closing time. Nevertheless, these historical structures were breathtaking.
Other highlights include Topkapi palace with its many antiquities, and a cruise around the Bosphorus strait. Unfortunately for me, the Blue Mosque was still under renovations and I couldn't appreciate the full splendor.
Besides the sights, Istanbul was very pedestrian-friendly and had a wealth of shopping. My excursion into the Grand Bazaar was unfruitful shopping-wise, but it's still a sight to behold the many shops. I went with a cheap culinary experience, which was quite easy but I did overspend one meal… by around 2 dollars. I think the lesson is to avoid places with bi-modal reviews.
I then went to Selcuk and the nearby Ephesus, eponym of the book of Ephesians. Here is really where the history became tangible (tbh, my Caliphates history is pretty rough): I probably walked the same steps that the apostle Paul and Mary strolled two thousand years ago. The actual Roman town was very well preserved, and it felt more Roman than Rome due to the lack of cars around. Finally, I went by a former Sevens Wonders: the Temple of Artemis. Unfortunately, the only thing that remains is a single column and the grounds are mostly peddlers.
There were a few other attractions around Selcuk such as the place where Mary allegedly died, a local redoubt, and the ruins of St. John Basilica. Selcuk itself was quite fun to walk around with cheap food and locals everywhere. I far enjoyed my time there compared to Istanbul.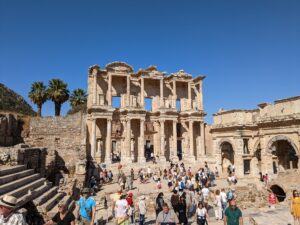 Afterwards, I took a day trip to Pamukkale, which was arguably one of the highlights of the trip. Due to the contents in the hot springs, an alien-like waterfall structure built up. The Romans realized this and built a town around it with a well-preserved theater. The star was definitely the warm waterfall though. This place deserves its UNESCO heritage site designation. But maybe the most curious thing is the number of "influencers" trying to take their Insta pics…
Finally, I went to Ankara to visit an old office mate. We visited the local museum where I saw the skull of the King Midas, much to my surprise. We also ended up eating a good deal of food. Speaking of dining, I really do enjoy the freshness of the cuisine in Turkey. It seems that the cherry tomatoes in Turkey did have more flavor with an basil-esque aftertaste. There are also a lot more more lamb-based foods plus fresh Mediterranean seafood which I enjoyed. Unfortunately, the food was not as cheap as I thought it would be. Thanks Obama.
Lastly, the trip ended up in Cappadocia. The area felt like the hoodoos that I saw in New Mexico, but just at a far larger scale with more varied terrain and water. Furthermore, there were old Christian churches carved into the features. This area was truly unique in both the historical significance and natural wonders. In addition, there are also the possibility for balloon rides! I think I could've spend another day there with how many features that I didn't get to see.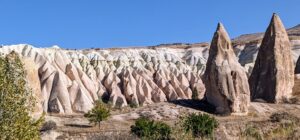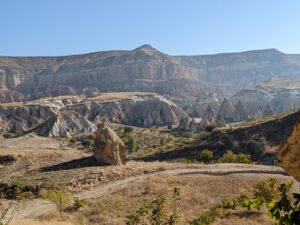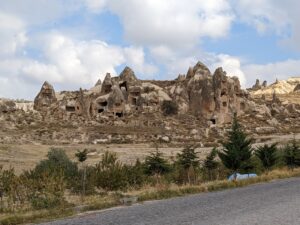 As for some closing thoughts, I felt a bit bad for not talking to that many Turkish people. I stayed in hotels (in fact, got upgraded from a hostel since it was low season) and mainly kept to myself due to possible scams. Nevertheless, the people I talked to were all nice and respectful to a clear foreigner.
Lastly, there are a lot of cats… petting them all would've took forever.